How Can I Be Eco Friendly With My Dog?
As we all become more aware of our impact on the planet, efforts to go green have crept into many aspects of corporate and individual decision-making — from packaging products to what kind of soap to buy. It is no surprise, then, that dog owners have become more interested in feeding their pets in eco-friendly ways.
Using eco-friendly dog poop bags to replacing store-bought toys with safe, old household objects, pet lovers are demonstrating that they are environment lovers. It's only natural that the concern over pollution from pets would extend to chowtime.
"Being eco-conscious is not something you do for yourself and not for your pets," says Don Reisinger, sales and marketing director for New Age Pet, maker of the ecoConcepts Pet Bowls.
"If you're going to do it right, you need to be eco-conscious right across the board."
T

he Green Dog Movement
As you seek out more natural foods for yourself and continue to recycle packaging, think about doing so for your dogs.
"I think for all my clients, sustainability takes a backseat to nutrition," says Dr. Patricia Joyce, a veterinarian at BluePearl Veterinary Partners. "With that said, most pet owners would love to make ethical, environmental choices in all aspects of their lives, including what they feed their dogs."
The pet food industry is responding to this desire. In a recent industry survey conducted by the trade magazine Petfood Industry, 62 percent of respondents believed that consumers value sustainability and cited consumer demand as one key reason for their operations adopting green practices. Below, Joyce and Virginia-based emergency veterinarian Dr. Katy Nelson weigh in on balancing your dog's nutritional requirements with environmental responsibility — and what else you can do to protect the planet while caring for your dog.
Here are tips on how to make your dog's dinnertime more eco-friendly:
Look For Natural Dog Food Ingredients
Humane and Sustainable Dog Food
While a vegetarian diet has less impact on the environment than one that includes animal proteins, Joyce and Nelson stress that dogs are omnivorous in the wild and should remain as one in your home. "Animal protein is an essential source of vitamins, minerals, and amino acids for dogs," says Nelson. "You can do research and find a dog food you feel good about — say one that uses cage-free chickens. But it's neither fair nor healthy to force a vegetarian diet on your dog."
Our Recommendations for Humanely and Sustainably Sourced Dog Food
Cost Of Transportation
Specific animal food sources do leave less of an environmental footprint. For example, because of a chicken's relatively small size, transporting it "from farm to fork" results in substantially lower greenhouse gas emissions than beef transportation. Not unrelated, due to overfishing, some sea-dwellers have become better environmental choices than others. The World Wildlife Fund lists these fish, and a little research can go a long way in deciding which fish-based commercial food to feed your dog.
Our Recommendations for Environmentally Ethical Dog Food
Eco-Friendly Farming
Though less publicly considered, even the farming of produce has its environmental costs. As such, there is increasing interest in pulse crops — crops such as peas, lentils, and garbanzo beans — which derive their nitrogen fertilizer from the air, requiring less fossil fuel to grow and releasing less carbon dioxide into the air. Environmentally aware pet owners might look for foods that count these pulse crops among their fiber sources ("Not as their protein source," remind Joyce) to guide their food selection.
Our Recommendations for Eco-Friendly Farmed Dog Food
Natural Dog Food
A growing number of consumers have begun using the standard of minimally processed foods when deciding what to feed their dog. The Association of American Feed Control Officials (which regulates the pet food industry) defines natural food as "… derived solely from plant, animal or mined sources not containing any additives or processing aids that are chemically synthetic except in amounts as might occur unavoidably in good manufacturing practices." Food-makers are increasingly putting dog food ingredients that people understand are healthy, such as chicken, egg, carrots, spinach, and omega-3-rich fish oil and flaxseed.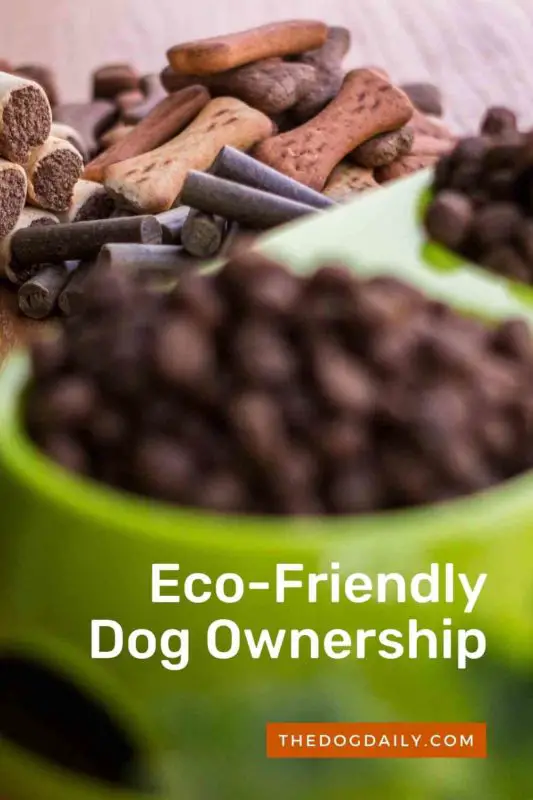 Our Recommendations for Natural Dog Food
Recyclable Dog Food Packaging
Look for companies that use renewable or recycled materials for their packaging. For example, some dog food now comes in resealable plastic bags that can be returned to the grocery store for recycling after use.
"Canned food packaging is very recyclable. It's the greener alternative as far as the ability to recycle is concerned," says Christine Mallar, owner of Green Dog Pet Supply in Portland, Ore. Dry dog food manufacturers are often looking to create stability for ingredients and sometimes use waxy or coated paper for bags. "If there are layers, we tear off the outer layers and recycle the paper part on the outside and leave the liner to the garbage," says Mallar.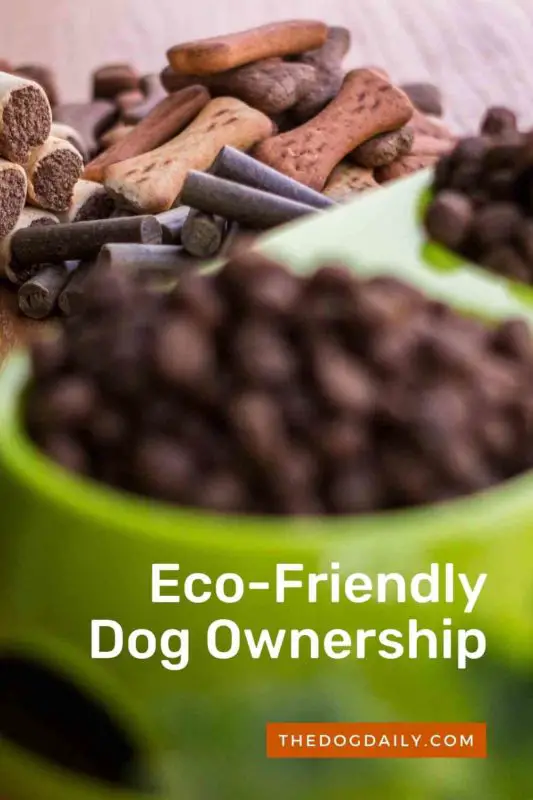 Our Recommendations for Dog Food with Recyclable Packaging
Eco-Friendly Dog Bowls
Eco-friendly food and water bowls on the market include;
recycled plastics and glass stainless steel (which is durable and doesn't often get scratch marks where bacteria can hide)
locally made, lead-free ceramic bowls, which cut down on fossil fuels' use to transport the goods.
Serve Filtered Or Recirculated Water To Your Dog
To provide your dog with good-quality water, and help the environment, choose filtered tap water. It removes metals and pollutants from your water supply. Avoid bottled water, which often ends up in landfills unless it is properly recycled. Pet water fountains, which recirculate water and can entice your dog to drink more because the water tastes fresher, are another option.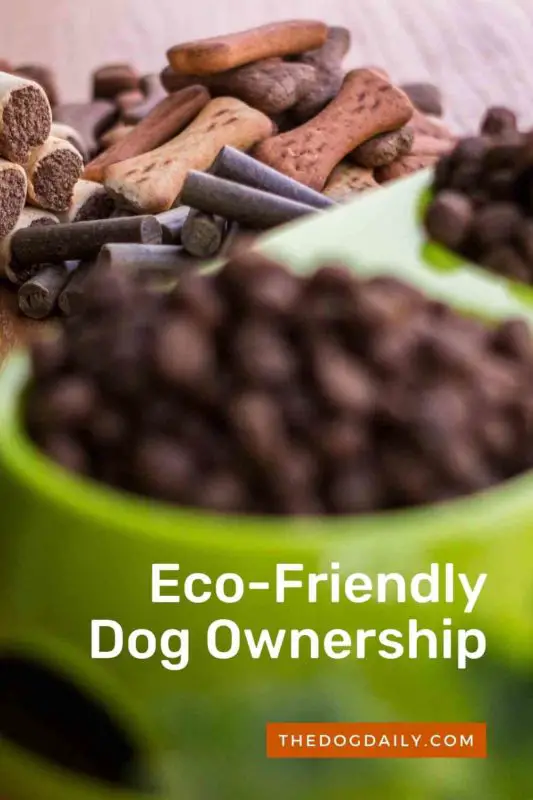 Our Recommendations for Recirculated Water Fountains
Use Recycled Dog Placemats
Avoid mopping up the floor under the dog's bowl by purchasing a placemat made of recycled material. "For anything you're buying for your pets or yourself, you should consider what it is made of, where it is coming from, how long it will last, and what happens once you've finished using it," says Mallar. She sells fair-trade placemats made in Africa from Global Mamas that are batik on one side and plastic recovered from landfills on the other side.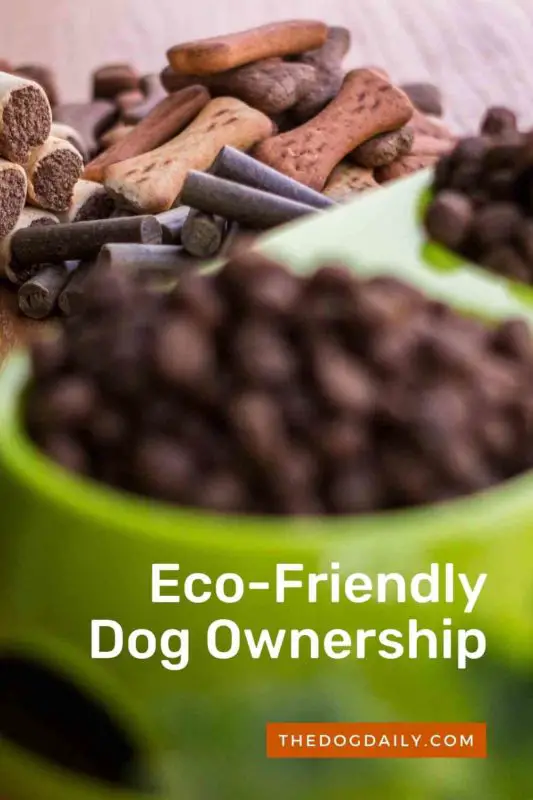 Our Recommendation for Recycled Dog Placemats
Other Ways to Help the Environment
"At the end of the day, the goal is to feed your pet the best quality food," says Nelson. "If that's beef, then it's beef. You can reduce your environmental footprint in other ways that don't negatively impact your dog's well-being. Ride your bike rather than drive. Recycle." And use the Web to start researching the following nonfood aspects of your pet's kibble company:
Some commercial pet food makers have made public commitments to using renewable energy sources, such as wind and solar power. Look for these commitments and manufacturing plant Leadership in Energy and Environmental Design (LEED) certification from the U.S. Green Building Council.
Corporate philanthropy often supports green causes. Pet food manufacturers in North America are involved with all sorts of philanthropic programs — from
dedicating a percentage of their profits to supplying clean water to children to supporting local conservation efforts.
With the pet food industry coming on board to support a whole host of environmentally-friendly changes, dog owners can feel more optimistic about reducing their best friends' carbon paw prints.
"For too many decades," Reisinger says, "We just bought what we wanted and did not pay attention to the environment." With just a few simple changes, you can help to make a positive difference.
Article written by Author: Rose Springer, and Elizabeth Wasserman